Description
The Holiday home is situated in a prime location south of Cape Coral Parkways with a nice view of two wide channels. There are several restaurants nearby which can easily be reached in a short walk or by bicycle. A private jetty is on the premises.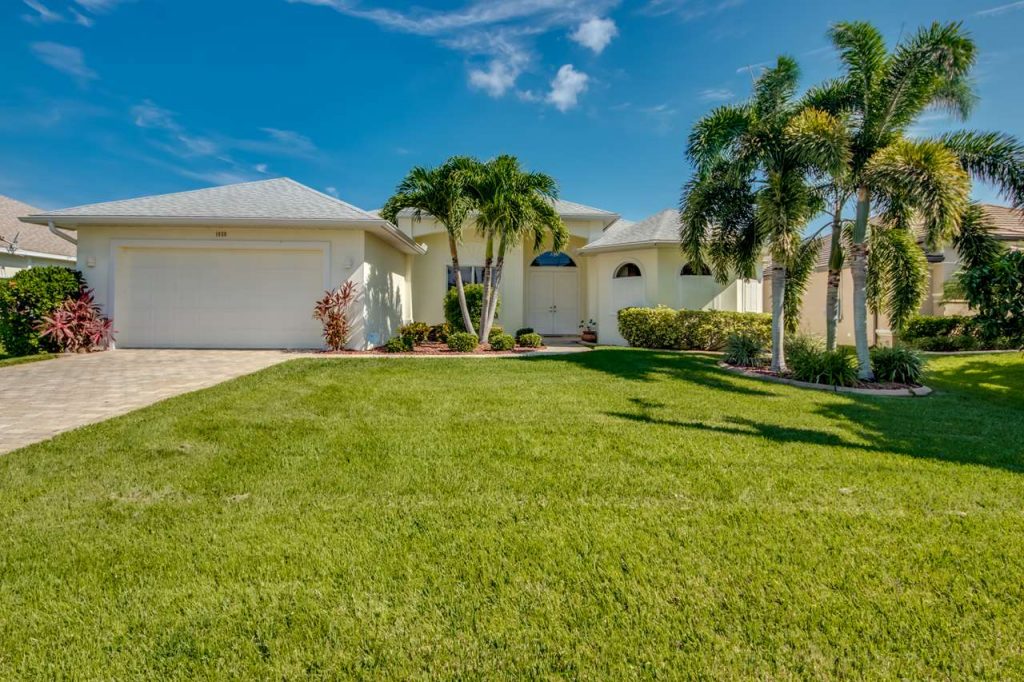 Cape Harbor is only a short boat ride away. All kinds of excursions can be started from here, e.g. travelling up the Caloosahatschee River to Fort Myers Beach south of Cape Coral. You can enjoy the beauty of nature by making excursions to Pine Island, Sanibel and Captiva Island with its famous shell beaches, but also by making shorter trips to the smaller islands near Fisherman Key.
living room
Master Bedroom
Bedroom 2 and 3
Den
outsides
Vila La Favorita virtual Tour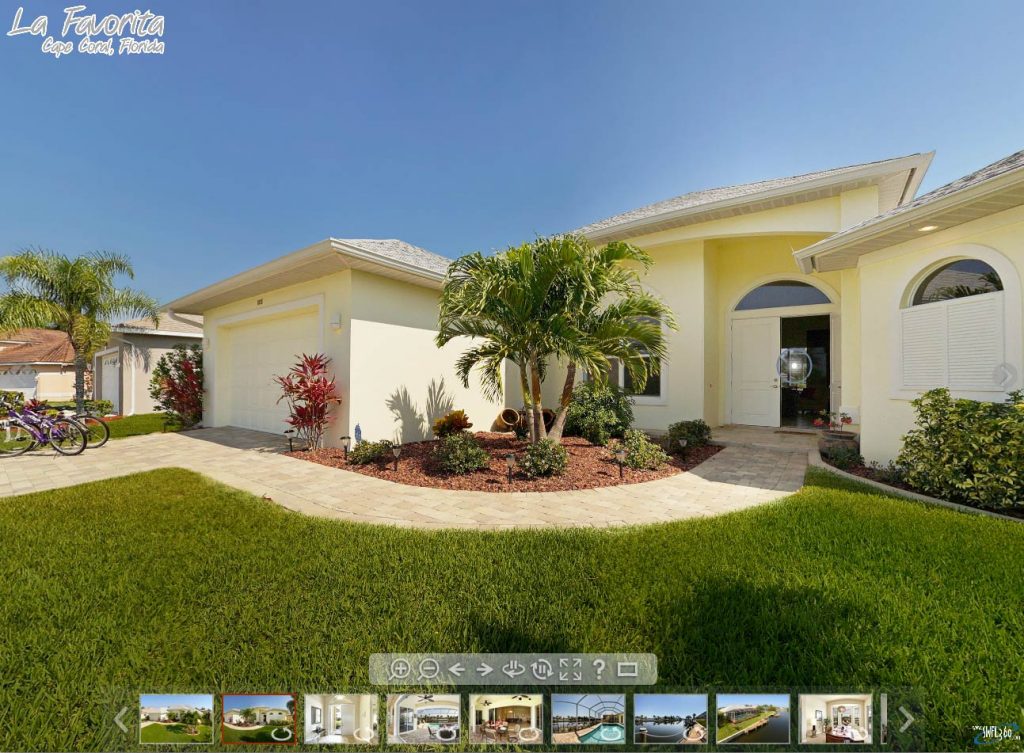 Location
Absolutely quiet fantastic location in South-South-West Cape Coral. 1000 sqm canal plot facing south with access to the river, ideal to rent a boat, about 250 sqm, 200 sqm pool area with Screen - Close to beach and sea.
[borlabs_cookie_third_party] [/borlabs_cookie_third_party]
Equipment
General
Dock for boats
combined air conditioning and heating and adjustable ceiling fans in all rooms
2 sun umbrellas for the beach
4 bicycles
2 hinges
Kitchen
Microwave
Oven
Ice maker
coffee maker
dish washer
waste shredder
Toaster
pantry
1cool box
1 high chair
Utility room
washing machine
dryer
ironing board and iron
vacuum cleaner
Living Room
panorama windows
Entertainment Center
Flat TV
exclusive furniture and accessoires
Dining room
Dining table with view of the pool
Bathrooms
3
Hairdryer in each room
Towels for bath, pool and beach
Bedrooms
3 bedrooms for 6 people
Bedroom 1 – King Sized bed
Bedroom 2 – King Sized bed
Bedroom 3 – 2 Single beds
bed linen
1 cot
Entertainment
4 TV´s
DVD-Player for german and american movies with sound machine
Outdoor
Parking lot
Dock for boats
large covered patio with 2 ceiling fans
garage with elctric controller
6 sunbeds
XL stainless steel barbeque grill
exclusive garden furniture
Pool
Villa La Favorita 360°
[sphere 1040 anim_after="-1"] [sphere 297 anim_after="-1"] [sphere 1040 anim_after="-1"] [sphere 1041 anim_after="-1"] [sphere 304 anim_after="-1"] [sphere 1042 anim_after="-1"] [sphere 1043 anim_after="-1"][sphere 1044 anim_after="-1"]
Rental rate
Rental rate (up to 4 persons): US $ 2200,00/week 20.12-06.01 US $ 1700,00/week 07.01-30.04 US $ 1500,00/week 01.05-30.09 US $ 1600,00/week 01.10.-19.12 Every additional person: US $ 150,00/week Final Cleaning: US $ 190,00 Grill cleaning: US $ 50,00 (if necessary) Deposit: US $ 900,00 Electricity: depending on consumption (0,15 USD/kWh) Phone: Local phone calls and highspeed internet free of charge 6,5 % Florida tax und 5 % tourist tax Minimum lease term: 1 week / additional days: rate per week ./. 7 Minimum lease term Christmas: 2 weeks From 30 days, you get 10% long-term discount. Smoking is not permitted in this house. Pets are also not allowed. If this rental condition is violated, the owner reserves the right to cancel the rental without notice and without compensation. In addition, a cleaning fee of at least 500 USD per pet will be charged. An additional cleaning fee of 500 USD will also be charged for smoking in the house. If you provide incorrect information about the number of guests when making a booking, this breach of contract automatically leads to a cancellation of the booking without compensation and you must leave the house within one hour. In addition, a contractual penalty of 500 USD will be charged. Cancellation policies: Cancellations, No shows or early departures will be charged as follows: On the date of reservation you agree to pay 30% of the invoiced amount which won´t be refundable. From 60 days before arrival we will charge 50% of the invoiced amount. Less than 31 days before arrival we will charge a 100% of the invoiced amount. The final payment and the caution is due until 30 days of arrival. We will remind you in time. Once we did the settlement of the power you used and we´ve checked the house and there are no damages we´ll transfer the balance back to you.